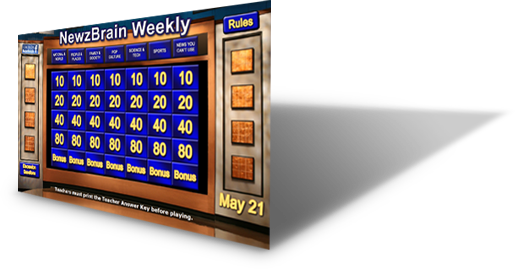 What is the En Passant Interactive?
The En Passant Interactive is an interactive white board game with new questions provided each week for the entire school year! The game is a fun way to teach students about current events using the most advanced technologies.
For Grades 7-12
Teacher answer sheets are provided each week for each game
Fun sounds for the students
Up to date news - All versions of En Passant are based on news from the past week
The questions are assigned point values for difficulty. There are many games and activities available with NewzBrain. The main goal of En Passant is to provide upper elementary, middle school and high school students with an exciting, fun activity that deals with current events. The questions are written so students can guess at the right answers and have fun doing it. En Passant is published for teachers each week through May.

Note: In order to play the interactive game you will need Adobe Flash Player. If you do not already have this installed, then you may download it for free by clicking here.
En Passant Interactive Demo (Grades 6-12)