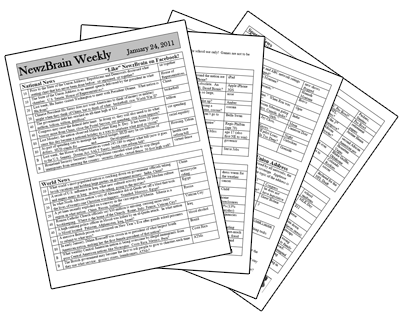 What is the Civics Print Game?
40 Week Subscription* with 70 NEW Q&As each week!

For 3rd grade and up.
All questions in the NewzBrain quiz games are non-controversial and non-violent topics.
Up to date news based on news from the past week
The Civics Game is highly educational as well as promotes good behavior in students. The Current Events Game is very effective in grades 3-HS.
The Civics Game was created as part of the 1990's "Teams, Tournaments and Games" cooperative learning strategy, peer tutoring/modeling, and teacher/student communications.
We Populate Q&As Weekly For You!
Many different styled games.
Up to date news - All Jeopardy-Style Civics Game versions are based on news from the past week.
Many teachers like to reserve NewzBrain for Fridays while others enjoy using NewzBrain daily as a sponge activity.
* 38-40 Issues depending on holidays.
Play the Civics Print Game Demo!
Additional Game Rules
About Us
We are a lifelong learning quiz and national academic challenge curriculum helping students and adults to think globally.
What We Provide
Jeopardy-Style Civics Game
The popular Jeopardy-Style Civics Game is for elementary, middle and high school classroom use.
Quiz Bowl Challenge
We also organize and sponsor the Quiz Bowl Challenge for grades 4-12.
Students play against students. Teachers and parents also can play in an adult division!
Our Contacts
NewzBrain Education
College View Station
PO Box 6544
Lincoln, NE 68506

Phone: 402-944-7300
Fax: 402-944-7301